Earlier this week there a buzz was created when writer and artist Douglas Coupland tweeted:
I am looking for a Vancouverite with a car to help me buy Lego online. Info attached here.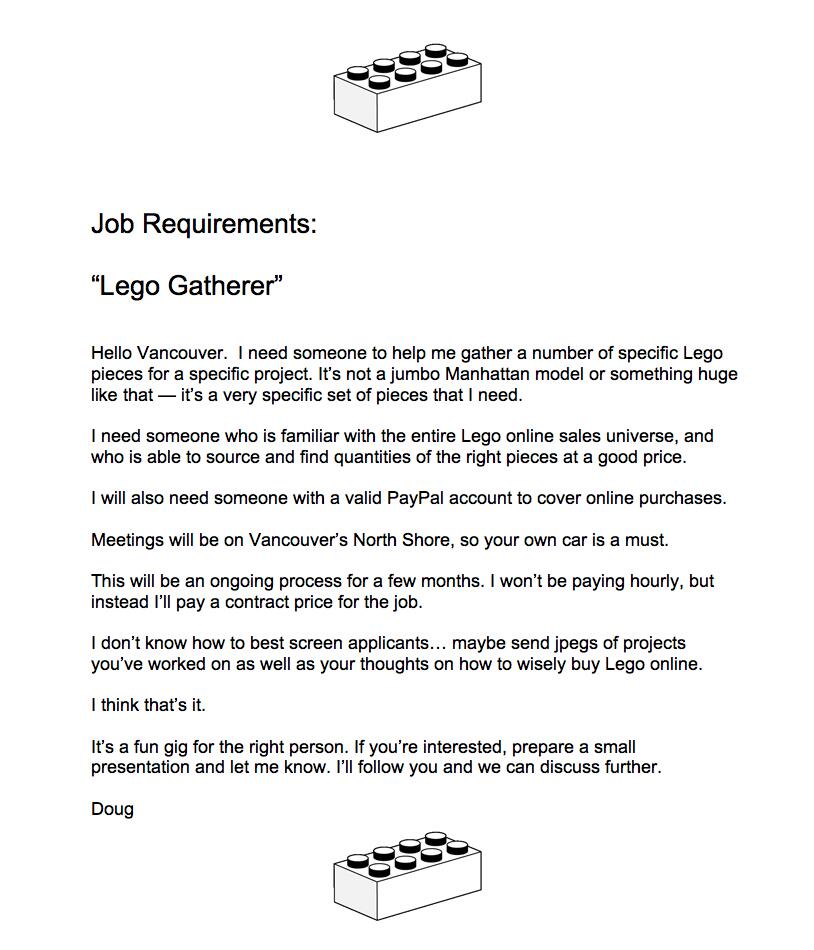 The next thing I knew, I saw that CTV News had published a story and soon The Province Newspaper came around asking questions too.   I knew that one of our members, Paul Hetherington had tweeted Mr. Coupland back inquiring about the job. And with that I knew that I couldn't compete with him.  Paul lives on the north shore, runs a Bricklink store, has a huge personal collection, an encyclopedic knowledge of LEGO elements and how all the pieces interconnect and is an award winning LEGO artist.  I fully endorse Paul to Mr. Coupland.
Good luck, Paul!  And for anyone else wanting to apply for the job send an e-mail to lego.gather@gmail.com
Below is The Province Newspaper article published on May 7th, written by Frank Luba.  Reproduced from The Province website
Vancouver artist Douglas Coupland is looking for what he calls a "Lego Gatherer."
Coupland, who is probably best known as a writer but has an extensive oeuvre in other art forms, put out a call Sunday on Twitter for someone to help him "gather a number of specific Lego pieces for a specific project."
The person selected will need a car to get to meetings with Coupland on the North Shore, where he lives, and a PayPal account to cover online purchases.
The job, which will be on a contract basis, sounded interesting to Pierre Chum of the Vancouver Lego Club.
"I think it's fabulous to be able to work with another artist who wants to build in the Lego medium," said Chum. "If you look at some of the stuff he's done before, it seems to be that he loves his Lego. He's unabashedly a lover of Lego."
Chum said that among those interested in the position is North Vancouver's Paul Hetherington.
With approximately two million Lego pieces of his own and fantastic creations such as a tribute to Lady Gaga and her Born This Way tour, Chum things Hetherington would be an ideal candidate.
Coupland did not respond to a request for an interview, but all the details for anyone interested are available at pic.twitter.com/HsVYA4Nv9c